Grewelthorpe Village Web Site
If you are looking for the latest news, reports of recent events or notices of upcoming events relating to Grewelthorpe the Harrogate Advertiser/Ripon Gazette Grewelthorpe page is here. If you have any snippets of news or notices please contact who will be please to put them in her column in the Ripon Gazette and Darlington & Stockton Times.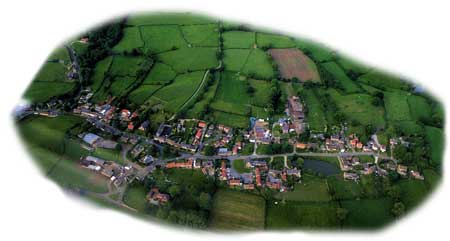 Click on the image to see a larger version.
This aerial photograph is provided thanks to Nick Lee,Barry McGrath and Alina Nosiadek. The image has been filtered and doctored in Photoshop and is now more of an illustration than a photo. If you want to see Barry's original it is here
Family History
For many years Barbara Bradley has collected information on Grewelthorpe and in particular family history and school history. She is has been beavering away to put as much of this information on this site so that it is available for people tracing their family history. Her genealogy section is one of the most visited areas of the site and we are regularly contacted by people who are building their own family tree.
Contribute
The Village web site is set up so that many people can contribute to the project. There is a private section of the site that allows users to write and edit their own pages and upload images. We need more people to get involved either in an ongoing sort of way or just with a single article or picture.
for further details.
HackfallThere is a spin off site on the subject of Hackfall Wood which we would encourage you to visit. PDF copies of all of the newsletters are available together with photographs and articles. If you have any photographs or recollections of Hackfall that you would like to share please in the first instance.